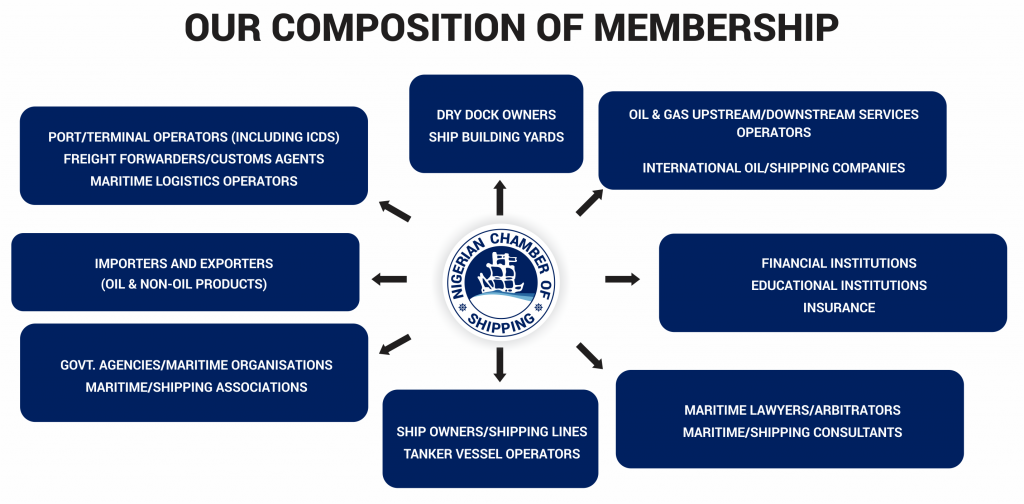 If you are in the Maritime/Shipping sector or aspire to participate in Maritime activities, the Nigerian Chamber of Shipping is the place to belong. We are the only indigenous African state as members of the International Chamber of Shipping with a fast-developing network of Industry influencer and a strong voice in Maritime policymaking.
It is therefore significant and beneficial to become a member.
Membership Benefits
Below are things you will enjoy as a member
Join/Be a member of your sectorial committee
Opportunity to give expert consultation
Opportunity to add voice to policy development
Interact with Government and policymakers
Listing on our Membership directory
Attendance of exclusive advocacy programs such as Breakfast meetings, Members evening, Webinars etc..
These are the benefits of being a member to mention a few.
Join Us
Nigerian Chamber of Shipping membership is open to Individuals, Corporate bodies, and organizations that are in the maritime and Oil and Gas industry. These include ship owners, shipbrokers, managers, maritime lawyers, oil companies, and all businesses that are shipping.
Becoming a Member